Muni Shri Tarun Sagarji M. S.
Date of Birth

26th June 1967

Place of Birth

Village Guhanchi, Damoh, Madhya Pradesh, India

Name Before Becoming Muni

Shri Pawan Kumar Jain

Father

Shri Pratap Chandra Ji Jain

Mother

Smt.Shanti Bai Jain

Academic Qualifications

Middle School

Abandoned Home on

8th March 1981

Chullak Diksha
(First Religious Observance)

18th January 1982, Aklatra, Madhya Pradesh, India

Elak Diksha (Muni Diksha)

1st December Gondia (Maharashtra), 20th July 1988 Bagidora, Rajasthan, India.

Spiritual Guide

Acharya Shri Pushpdant Sagar ji Maharaj

Achievements

Only person in the history of the last 2000 yrs. to adopt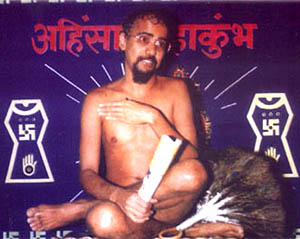 Jain Ascetism in the tender age of 13 years.
First Jain Muni whose
pravachan(Elucidations)telecasted in 122 countries including India.First Jain Muni who is available on Internet.
First Jain muni who started a movement called Ahimsa Mahakumbh to stop export of meat and leather from India.
First Jain muni who had pronounced that Bhagwan Mahavir is to be freed from Janis and temples, His thoughts and teachings should be for each individual. It clearly shows his revolutionary thoughts.
First Jain muni Written no. of books in Hindi and Sanskrit.
Life History : Muni Shri Tarun Sagar Ji Maharaj is the first Digambar Saint who is popularly known as the revolutionary Saint in the Jain community. Yes, it is very surprising as Saint and Revolutionary Saint does not go together, but the truth is a truth. "I have come as a revolutionary messenger and not as a messenger of peace, remember I have come with the sword of revolution and not with a message for peace, because peace is not possible without a revolution under the present circumstances of the country and society". These are the roaring notes of the Revolutionary Saint Jain Muni Shri Tarun Sagar Ji Maharaj which echoed around the fertile land of revolution of Meerut during his first address of the speech. With the result, every corner of the city was awakened and ten to twelve thousand credulous listeners started to attend the speech of Muni Shri which created a new history of Meerut, the pleasant odour of which had spread in the city and an ocean of culture and moral was rippled
Muni Shri Tarun Sagar Ji Maharaj is the first and the youngest Digambar saint who has taken Diksha.In the year 1982,just at the age of only 14 he got the blessings of his guru Acharya Shri 108 Pushpdant Sagar Ji Maharaj and got the degree of Jaineshwari. Who knew that this young saint one day will be known as the Revolutionary Saint and will be the first in the history to address the largest audience from the rempert of Red Fort, the pride of the capital of India, Delhi.
Muni Shri Tarun Sagar Ji Maharaj is also the only first Digambar Saint who has attracted the largest audience in where ever he goes for preaching. His pravachans are listened by a very large gathering who comes from all parts of India breaking all barriers of cast, creed, sex and age. His sense of humour is a natural and a gift from God and he has an excellent control over spoken language.
In the speech of Muni Shri a labourer may be seen wrapping his dignity in to a few rags at one corner and minister on the other, admiring their fate for having the company of Muni Shri.
There is such an attraction in the magical smile floating on the lips of Muni Shri that the audience come running in thousands irrespective of whether it may be a "Anand Yatra" poet's meet or any other programme. There is such an attraction and impression in the personality of Muni Shri that if a rogue is impressed at one side, a relegious leader, Jagat Guru Shankrachrya of Hindu Samaj could not remain without being impressed on the other. The binding of caste and creed can't imprison the underpressable unconquerability of Muni Shri. Muni Shri has become the saint of the people by over coming the limits of a Jain saint.
Revolutionary saint, Jain Muni Shri Tarun Sagar is such a saint whose speech does not come out from the throat but from the melodious heart, He speaks from such a depth that the listeners drown in and become unaware from the outward world, for the few most valuable moments of the life. He talks and talks fluently and the listeners listen through their life or soul by forgetting their breath.
A stream of intellect flows from his speech, There is much depth, truth, youth, height and melody in the speech of Munishree Tarun Sagar who is famous for his revolutionary speeches that's why who so ever listens to him once only becomes his own for ever. He possesses a special way, angle and style of expression, which is rare in others.
Munishree is a saint of jolly nature. He is an overjoyed person. Freshness at every time, mild smile and ray of ecstasy always play upon his face. Humur and laughs present in his instinct nature and he tells the most mysterious things in the same way. He is a sculptor of words and painter of words. Munishree Tarun Sagar is a person who can give lives to the dead bodies. He had resolved to convey the enternal messages, which were expressed through the nectarine throat of Bhagwan Mahavir to the ordinary and common people in their language only.

Traditionally, all the programmes of Muni Shri are organised at a place which is mostly reserved for the political leaders as very rarely he goes to the places like dharam shalas or temples.

He says I want to set Mahavir free from the temples and that's the only reason I had stopped to talk in your temples. I deliver my speeches on the most busy squares of the city, because I want to see Mahavir Standing on the Crossing. My only desire is that Mahavir must be free from jains, his message, his conduct, his ideal life should be visible before the world.
Therefore he prefers to deliver his ideas from the carefully selected public places like busy round-abouts and other busy streets. His aim is to spread the philosphy of Lord Mahavira -"Live and Let Live".
His contention is that Mahavir is not the asset of Jains only but a trust money of the whole human beings. Munishree Tarun Sagar ji is the name of that personality who had struck the strings of innumerable guitars of the heart which were sleeping and awakened the possibilities of intellect through his revolutionary speeches and its fire arrows. He is a deity of awakening. He is doctor of conduct. His sight and vision with motto is not imprisoned into small units.
He does no speak only on Jainism and Mahavir but makes the subject matter of his speech from the Ramayan to Kabir, Patanjali, Gurunanak Budha, Vivekanand, Osho also. That is the only reason all people listen to him with love and choose by heart.
Muni Shree Tarun Sagar Ji is the first and foremost Digamber Jain Saint who attracts to assemble not only jains but also Vaishnava, Sikha, Sindhi, Arya Samaji and Mohemdans to his speech. He does not deliver his speech in Temples and alms houses leaving aside some exception, but delivers at the places where the conventions of the leaders having national fame are accumulated or where Asaram Bapu, Morari Bapu, Ramesh Bhai Ojha and Narain Dutta, Shrimali like popular Saints accumulate the audiences.
There is Crowd of five to six thousands to 10 to 12 thousands in his every day meet. One can see ordinary people also and IAS officers and great politicians too present in the meetings.
Muni Shri Tarun Sagar Ji does not do enhancement magic or exorcism, he never distributes lockets and use witchcraft and fascination. Even though people run after him like mad.

In this reference he says, I don't know any witchment or enchanting, I had subdued myself and it is the biggest bewitchment to subdue ourselves.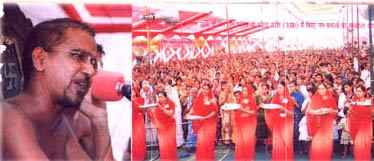 Muni Shree Tarun Sagar Ji is the director or wire piller of "Anand Yatra". "Anand Yatra" arranged by Muni Shree is pleasant in real sense. He only can understand or enjoy the essence of ecstacy of the programme "anand yatra" who so ever had heard or seen it, lived it and swallowed it.

Anand Yatra is miraculous and unique experiment of its own type, where Muni Shree makes the listeners laugh at one side and handover valuable asset of knowledge, within these humourous moments on the others.

When Muni Shree stops the journey of pleasure continues (yatra of Anand Continues) and when proceeds there is a pleasure of journey (Anand of Yatra). He says I eat pleasure I drink pleasure I wear pleasure. I distribute pleasure and live in pleasure. Anand Yatra is a journey without journey.
Muni Shree Tarun Sagar ji has deep insight into the religious books. He had churned the ocean of religious books eternally. His literature is a pot of nector in which precious pearls of knowledge are lying scattered.

His literature is being read with great interest and many editions of each book are published. His literature is conveyed in the whole country duly published in lakks in year.

The literature of Muni Shree is a mirror of emotions and experiences in which the art of amending the direction of life and condition of life is discussed.
It is a document of anguish story of life. It is such an X ray which does not only disclose the inner disease but also directs the way to destroy them.
Life of Muni Shri is a Triveni of Moral and Knowledge that destroys sins and burning from troubles. In the world of aimless race of the struggle for life Muni Shri is generously donating the extreme powerful calories of life to the suffocated humanly value for life. The valuable words emitting from the thin single body of Muni Shri have so much weight that no gust of time can get them away. Muni Shri is Mobile Ocean and stable note of revolution.

The literature of Muni Shri is not a novel produced within a few nights on the streets but a stone script of rising life, net of emotions, churning of devotion, by going through the same soul becomes mad, idle thirst rises, sense over flows and the emotion motivates. This literature is out come of devotion of year's together of Muni Shris' experience of inner most imagery. The literature of Muni Shri is such a notation, which will destroy every mental worry. It is a raga or composition vibrating from the notes of life where "Veet Rag" is merged. During his lengthy devotion Muni Shri has decorated the wasteland of literature with some philosophical flowers. A flower from those flowers Mrityu Bodh" (Perception of death, a formula of revolution in life) is being presented before you is a foot print of the holy journey of Muni Shri and the holy water pot of the Importance of life for the people.

As the sun shines always and need no introduction, similarly Muni Shri Tarun Sagar Ji Maharaj does not require any introduction. He is a shining star in the horizon. It is our great privilage that Muni Shri is with us and we are living in his age.
-----------------------------------------------------
Mail to : Ahimsa Foundation
www.jainsamaj.org
R1681